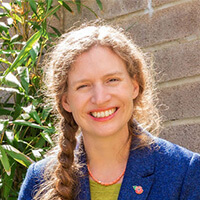 Today is World Book Day and the final book review of my mental health / wellbeing series is 'Emotional Fitness A – Z for Positive Mental Health' by Clare Davis. I met Clare networking a few years ago and she is passionate about mental health and developing emotional resilience. This book is written in a very accessible A – Z format which is makes it easy to read all the way through or dip in and out of random letters that appeal to you.
The book has been beautifully designed and illustrated by Hullo Creative with a very tactile cover and lots of space inside, Clare suggests you use it as a workbook and make notes, draw doodles and colour in the pictures as you try the ideas in the book.
The big idea of the book is a '5 a day' approach to mental health. We are all used to the concept of eating 5 a day as a preventative measure for our physical health and this book encourages us to take a similar approach to our mental health and wellbeing. Each letter of the alphabet prevents a prompt for activities to do or ideas to try - my favourite letters are:
B for Breathing – a different technique to the two previous books in the series (here and here) – an exercise called 'cleansing breathing':
Breathe in for a count of five through your nose
Breathe out for a count of five through your mouth
Breathe with conviction!
J for Journaling – a good reminder to make more of an effort to maintain my journal every night, the act of physical writing always seems to help clear my head. 
M for Mindful Meditation – meditation is not something I've tried, people who know me will know that I struggle to sit still and be quiet! Meditation is about being focussed and in the present, being well balanced and in the moment. I often feel like my brain is 'mind-full' rather than mindful.
S for Sunlight – being outside in the fresh air and in nature always makes me feel better and this is a useful reminder to make an effort to get outside in the natural daylight every day, something that has felt difficult in Lockdown 3.0 when working from home has coincided with the shortest days of the year.
W is for Water – water can boost our mood and positivity in various ways:
Lowering stress and anxiety
Increasing happiness
Creating a sense of well-being
I love swimming and have missed it immensely while the pools have been shut (I'm not brave enough to swim in open water – or hardy enough in these temperatures!), when I'm swimming I find that all I'm focussing on is breathing in a rhythm and counting lengths, both of which are surprisingly calming.
When I first read this book, I was surprised at how simple some of the suggestions seemed to be – but on reflection, I think this is rather the point. If we can do small things regularly to change our mindset, we can change our habitual thoughts and increase our mental resilience and wellbeing.