Some particularly appropriate graffiti spotted in Bristol a few months ago.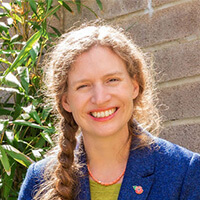 Earlier this year the IPCC issued the Sixth Assessment Report 'AR6 Climate Change 2021 The Physical Science Basis' which was described as a "code red for humanity" as it is now "unequivocal and indisputable that humans are warming the planet"
The terrifying consequences of increased temperatures, severe weather, more disturbed weather patterns, loss of biodiversity and deforestation feel terrifying and overwhelming to me, so it is no surprise there has been a rise in 'eco-anxiety' as discussed in both this Guardian article and BMJ blog post.
It certainly feels that every decision I make is tinged with guilt (particularly about driving to places to do things / see people) and I try to remember that there is only so much I can do as an individual. The biggest burden of responsibility needs to be on governments, policy makers, enormous corporate entities and probably most critically, investors and finance providers. According to the Carbon Majors Report in 2017, 25 states or corporations are responsible for emitting "more than half of global industrial GHGs" of carbon emissions since 1988. There is hope that pledge to end foreign financing of fossil fuel projects can be launched at COP26 this week and this is vital – in 2015, "a fifth of global industrial GHG emissions was backed by publically listed investment" (ref – Carbon Majors Report)
I am beginning to realise that although we can and need to make changes to the way we live our lives and run our businesses, we also need to put pressure of the decision makers, whether that is writing to our MPs to ask them about the advisability of the HS2 project, writing to our favourite crisp manufacturer to ask them why they are using unsustainable palm oil and disproportionately large crisps packets or by moving our pension contributions to ESG funds.
With COP26 happening this week, I wanted to reflect on the decisions I have made over the last few years to reduce the environmental impacts (travel, electricity, paper, money) of HKW Risk Management as well as further actions I need to take.
Travel:
I've reduced business mileage (my Scope 1 emissions) year on year through moving my client base closer to Bristol, remote working (via Zoom / Teams), as well as choosing alternative modes of transport such as biking to local clients, car sharing and using the train
I've always recorded business mileage but I'm now recording how many remote / on site days we provide each month, as well as what form of transport was used to get to site
I offset my business mileage every year using carbon credits purchased from Gold Standard
Travel Actions / Next Steps
Include miles driven by associates in business mileage
Ask associates whether they are offsetting their miles (my Scope 3 emissions, their Scope 1)
Electricity Use
I work from home, so can't really separate out 'home' electricity use from 'work' use (my Scope 2 emissions) but I have changed to a green deal from Octopus Energy. It is important to understand that whatever supplier / tariff you are on, the electrons coming out of the plug are the same mix of brown and green energy going into the National Grid. What your green tariff pays for is for green energy generation thus increasing the amount of renewables in the overall 'pot' of energy
Other electricity use includes my website server (provided via Oliver Cowan) and my back up server (provided via 2cServices) (my Scope 3 emissions) as well as all the emails sat in my inbox / sent items / deleted items folder – at 4grams an email, that's a lot of carbon sat right there – 2cServices have now set up a rule to automatically delete all emails older than 18 months which should help
I've changed my search engine to Ecosia 'the search engine which plants trees'
Electricity Actions / Next Steps
Encourage clients to choose a green tariff
Ask providers about green hosting and green server farms
Paper and Devices
I use 100% recycled paper for any printing, monitor how many pages a month I print and minimise printing through using OneNote and Xero
I've chosen a refurbished laptop to replace my old one
I've bought a second hand phone to replace my old one
Paper and Devices Actions / Next Steps
Recycle my old devices (about 10 year's worth of mobiles and a laptop!) so the precious and rare earth metals inside them can be re-used
Money
Money Actions / Next Steps
Although I can't move my business banking to Triodos (due to some clients being part of the military supply chain) I would like to move my personal banking there
Continue to move my pension contributions into ESG funds
Although I hope that significant policy changes and commitments are made at COP26 in the coming days which will have a far greater impact than the small changes I have made, I feel more positive for doing what I can and encouraging others to do the same.