I love this Christmas Cake recipe – I have used it every year since my mother in law used it for our wedding cake nearly 10 years ago.
You should have made this in early November so perhaps book mark this blog post for next year! You need to soak the dried fruit for about 3 days before making it and baking it, and then you will need about 5 hours to finish the mixture and bake it so allow enough time (rather than getting it out of the oven at 11pm as I have been known to do on occasion…)
Ingredients
Currants, sultanas, raisins, pitted prunes, pitted dates, glace cherries
2 x lemons, 2 x oranges
Brandy
Plain flour, ground ginger, ground mixed spice, ground nutmeg
Butter, sugar
Eggs
Molasses / black treacle
---
Step 1
put all of the following into a bowl, cover with clingfilm, stir it twice a day if you remember and leave it to soak for 3 days:
250g seedless currants
200g sultanas
200g raisins
75g whole pitted prunes chopped up
75g whole pitted dates chopped up
100g glace cherries chopped into halves or quarters (I always add a few more as I love cherries!)
2 x lemons, zest and juice
2 x oranges, zest and juice
150ml brandy (you can use cheap brandy!)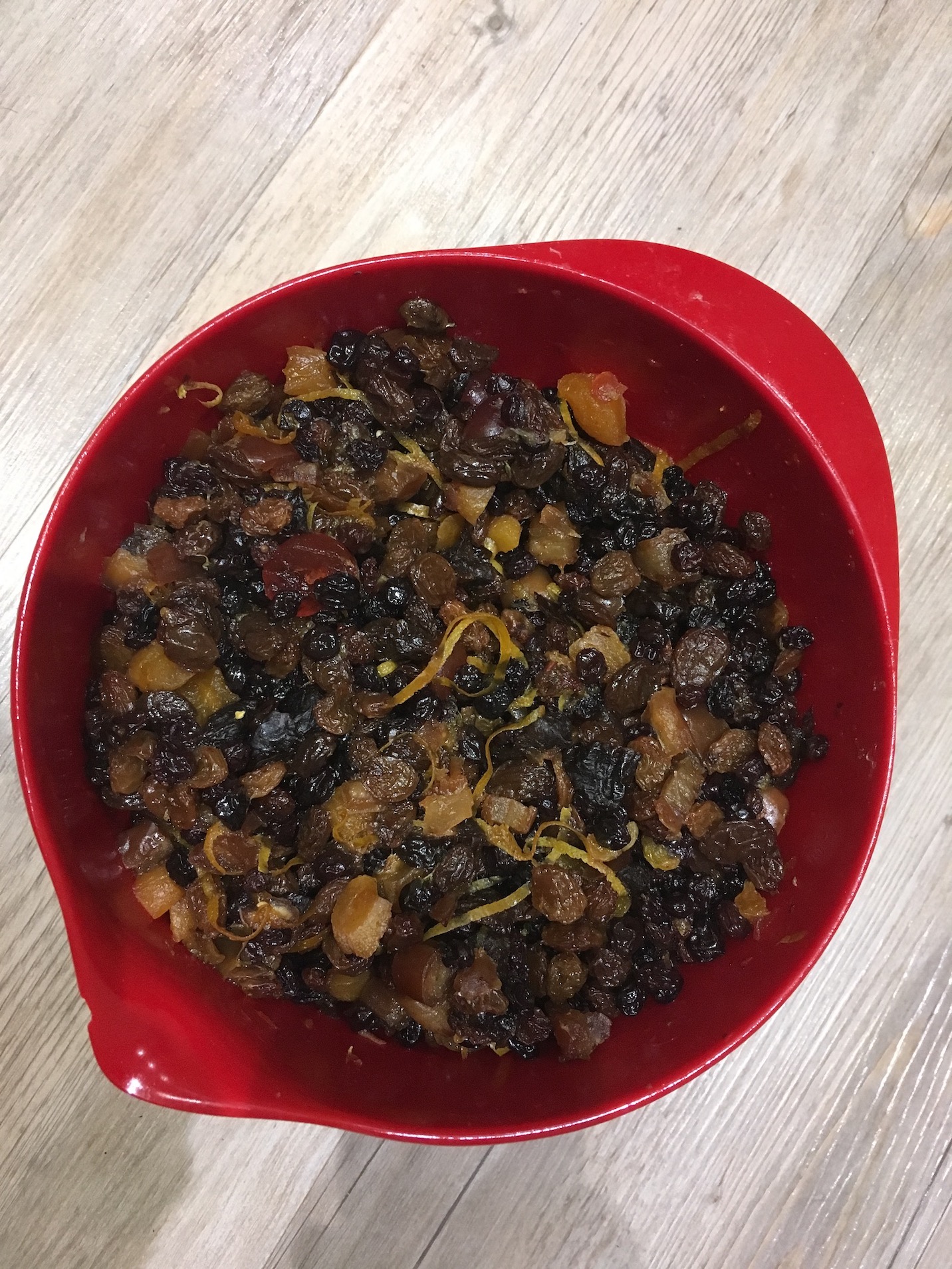 Step 2
when you are ready to finish the mixture and bake the cake, put the soaked fruit in a sieve over a bowl and drain the left-over brandy out, then put it in a jam jar.
Step 3
preheat the oven to 120°C. Grease and line the cake tin (it's useful if you've got a loose bottomed tin as it makes extracting the cake significantly easier!)
Step 4
sieve the following into one bowl:
350g plain flour
2 teaspoons ground ginger
4 teaspoons ground cinnamon
4 teaspoons ground nutmeg
Step 5
beat the following together in a different (large) bowl with a wooden spoon until pale and fluffy:
250g softened butter (ideally room temperature, if using a microwave to warm cold butter up, make sure you don't nuke it and melt it as it won't beat together properly)
250g light brown sugar
Step 6
beat 4 medium eggs into a separate small bowl.
Step 7
add a spoonful of egg and a spoonful of flour / spice mix to the bowl with the beaten sugar and egg in, beat until fluffy – repeat until there are no eggs left. If the mixture curdles and starts to separate, add another spoon of flour and beat it harder!
Step 8
fold in the remaining flour with a metal spoon.
Step 9
stir in 1 large tablespoon of molasses or black treacle and the drained fruit, the mixture will be really stiff and heavy by this point.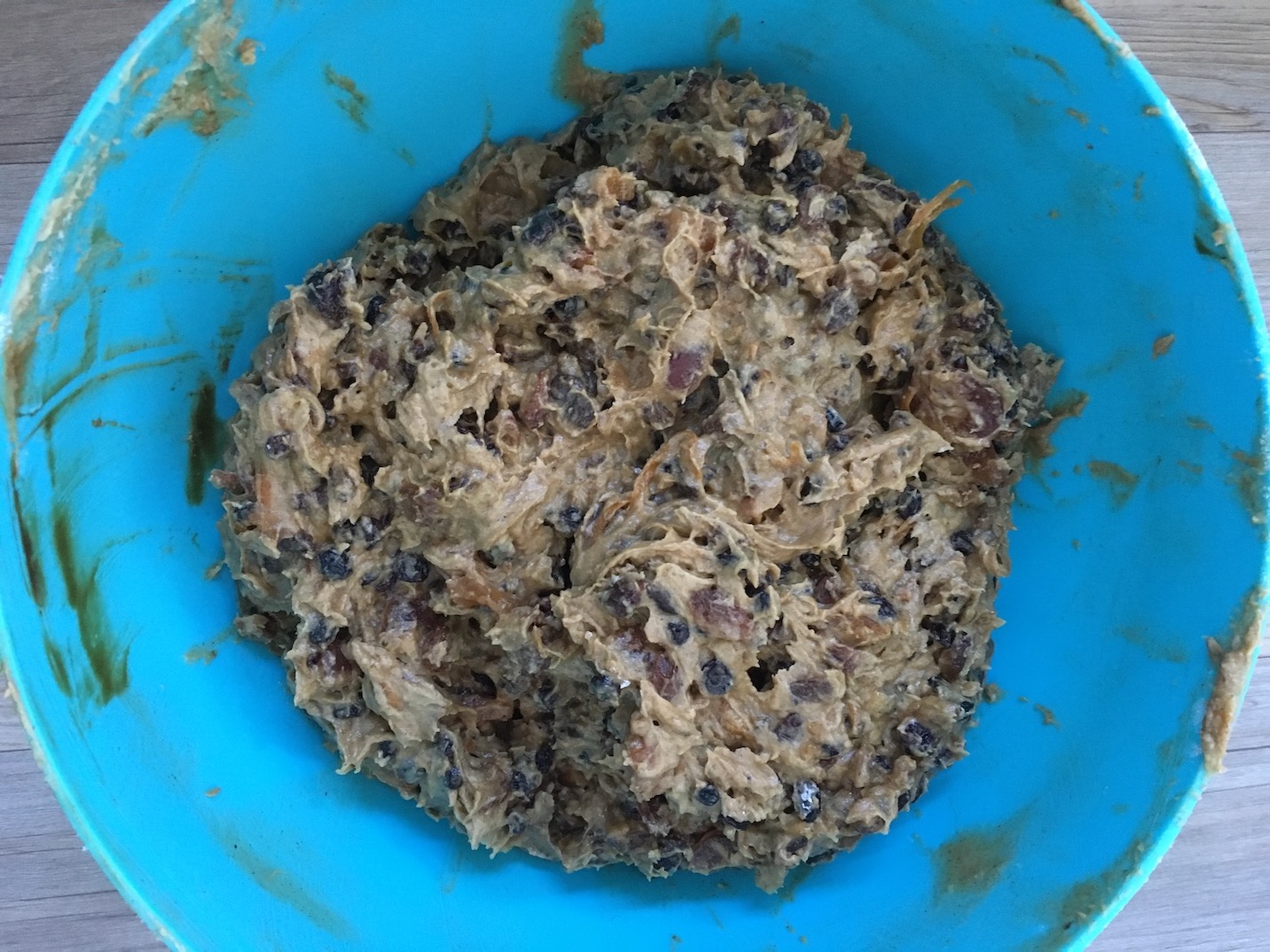 Step 10
spoon it into the lined tin, smooth the top, wrap the tin in brown paper to prevent the edges of the cake burning. Cook for approx. 4hrs at 120°C or until a skewer comes out clean with no crumbs stuck to it and the edges of the cake have moved inwards slightly away from the tin. Leave it to cool in the tin before turning it out.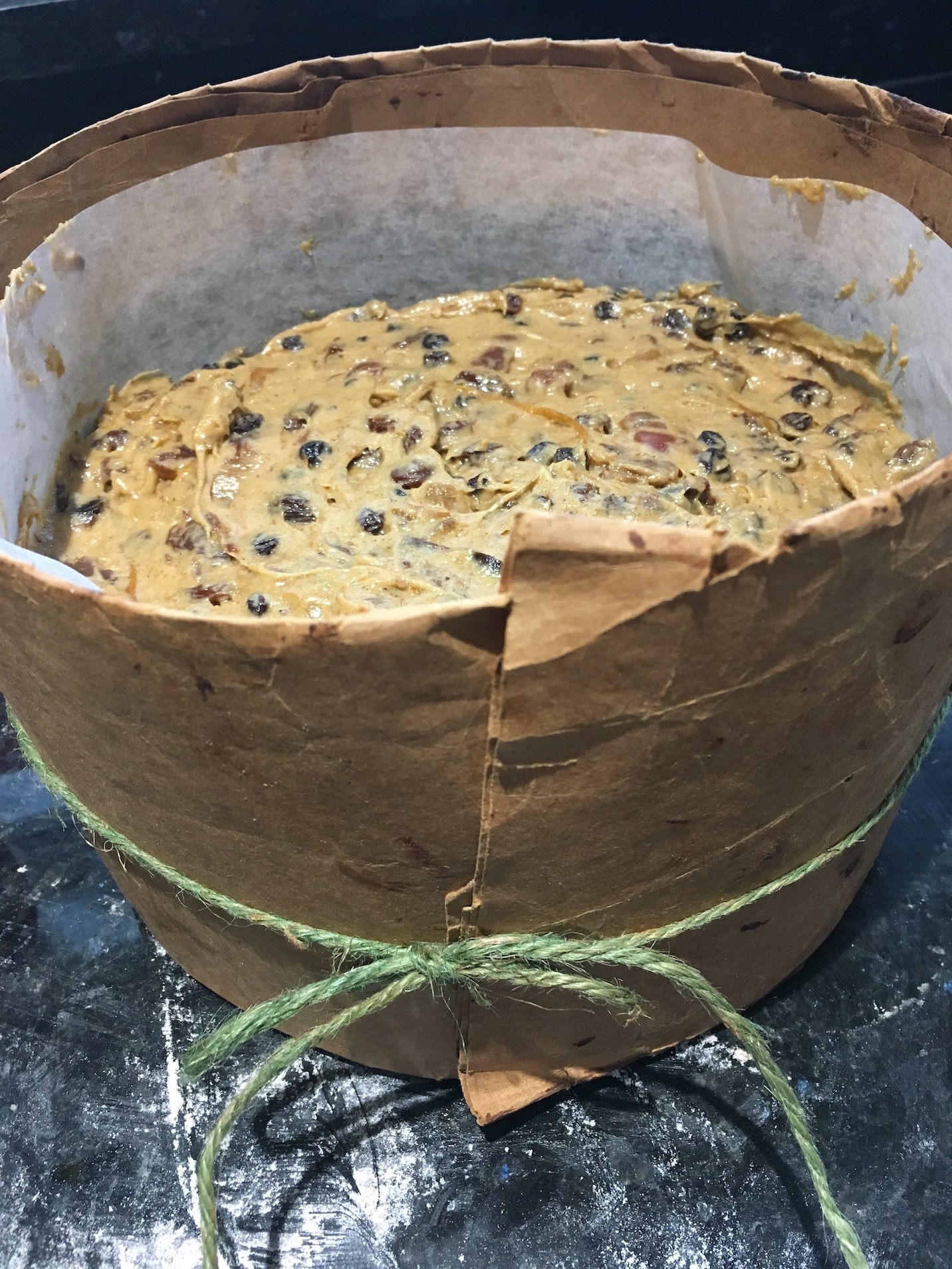 Step 11
once the cake is cool, stab it all over with the skewer and 'paint' some of the left-over brandy all over the cake. Wrap the cake tightly in a layer of greaseproof paper and a layer of tinfoil and put it in a tin out of the way until you are ready to marzipan and ice it (I usually end up doing this in a mild panic on Christmas eve) If you remember, unwrap the cake, stab it and paint some more brandy on it a few more times to 'feed' it before you decorate it.
Step 12
Decorating the cake! Knead 1 ½ blocks of marzipan (or 2 if you like a really thick layer of marzipan!) and roll it out, I roll out a circle shape for the top of the cake and a long rectangle for around the sides, paint the cake with leftover brandy and stick the marzipan down. If you are efficient and organised, leave the cake somewhere cool for a day or so to let the marzipan harden slightly, if you aren't and are doing this in a panic on Christmas Eve, don't worry and just put the icing on top straight away. I use Delia Smith's royal icing recipe and then decorate it with appropriate Lego!